Bacchus-left, Faun-center, Venus-right
François Perrier was a French painter who is best known for his two collections of etchings of antique sculpture,
Segmenta nobilium signorum et statuarum quae temporis dentem invidium evasere
, (Paris, 1638), and
Icones et segmenta illustrium e marmore tabularum quae Romae adhuc extant
(Paris, 1645)
Wikipedia Article
.
These copperplate engravings are for sale on
Ebay
.
Gladiator-left, Wrestlers-right
François Perrier (Chronos cut Cupid's wings) Art Poster Print - 11x17
François Perrier (Madonna with Saints Christopher, Joseph and Claudius) Art Poster Print - 11x17
François Perrier (David with the head of Goliath) Art Poster Print - 11x17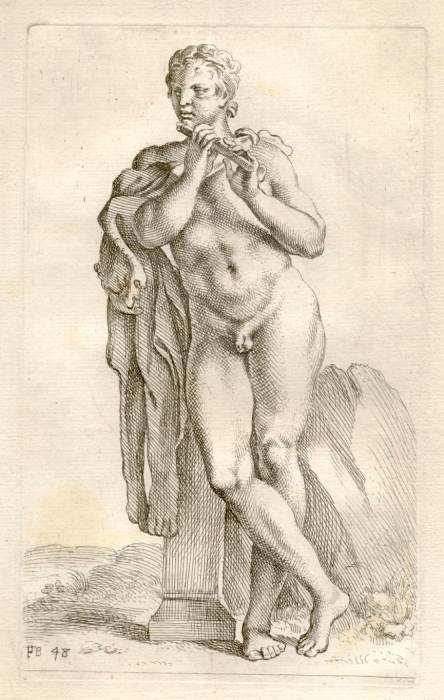 Another copy of the faun is available at
oldmasterprint.com
David with Goliath's Head
El Nilo del Vaticano
Biography from Bryan's Dictionary of painters and engravers By Michael Bryan, 1904
PERRIER, Franqois, called Le Bourguiqnon, was a French painter and engraver, who was born either at Saint Jean de Losne or at Macon, in Burgundy, about the year 1584. He was the son of a goldsmith, who had him instructed in the elements of design; but as he opposed his desire of becoming a painter, the young Perrier secretly left his home, and, without the means of subsistence, associated himself with a blind mendicant, who was on his way to Italy, and by this means arrived at Rome. He accidentally became acquainted with Lanfranco, who encouraged him in his pursuit, and admitted him into his school. After a residence of several years at Rome, he returned in 1630 to France, and passed some time at Lyons, where he painted a set of pictures for the cloister of the Carthusians. He then visited Paris, where Simon Vouet, who was then in possession of every commission of importance, employed him in painting the chapel of the chateau of Chilly, from his design. Finding little employment in Paris, he returned to Rome in 1635, where he applied himself to engraving the principal antique statues and bas-reliefs, and executed several plates after the Italian masters, as well as from his own designs. After the death of Simon Vouet, he returned to Paris in 1645, when he was employed to paint the gallery of the Hotel de la Vrilliere, and was one of the twelve professors who in 1648 founded the Academy. He died in Paris in 1650. Some of his best paintings are the frescoes in the above hotel, and his pictures of 1 Apollo in the Chariot of the Sun,' ' The Temptation of St. Anthony,' and ' Acis and Galatea'—this last in the Louvre. We have by him also a considerable number of etchings, from his own designs, and after other masters. He sometimes signed his name Paria.
His books as listed in the
Bibliotheca Sunderlandia
: sale catalogue of the truly important and very extensive library of printed books known as the Sunderland or Blenheim library : comprising a remarkable collection of the Greek and Roman classic writers in first, early and rare editions : a large series of early printed Bibles and Testaments in various languages
Perrier (Franc.) Segmenta nobilium signorum et statuarum quae temporis (Urbis Romee) dentem invidium evasere etc. 100 plates, Fine Proof Impressions (some mounted), old calf, sm. 4to. liuiuœ 1638
Perrier. Signorum et Statuorum Segmenta, 100 plates on 51 leaves, fine impressions, old calf oblong fol. Romœ 1653
Perrier. Icones et Segmenta illnstrium e marmore tabularum quae Romee adhuc extant, 50 fine plates, old calf fol. Romœ 1645
Perrier. Icones e Marmore. Another copy on larger paper, 50 plates, old calf imp. oblong fol. Bornee 1645
At the end of the vol. are 10 subjects after Raphael, engraved by Perrier.
François Perrier's
Venus in another post
.
The Roman Nude: Heroic Portrait Statuary 200 BC - AD 300 (Oxford Studies in Ancient Culture Representation)