Leonardo da Vinci, Trattato della pittura.
MILANO, SOCIETY OF Tipografica Classic Italian, 1804.
CAP. CCCI.
A fare una figura nel muro di 12 braccia, che apparisca d'altezza di 24.
Se vuoi far figura o altra cosa, che apparisca d' altezza di 24 braccia, farai cosi. Figura prima la parete M. N. ( Fig. 48. ) con la metà dell' uomo che vuoi fare , di poi l'altra metà farai nella volta M. R. Ma fa prima su '1 piano d' una sala la parete della forma che sta il muro con la volta dove tu hai a fare la tua figura, di poi farai dietro a essa parete la figura disegnata in profilo di che grandezza ti piace, e tira tutte le tue linee al punto F. e nel modo ch' elle si tagliano su la parete N. R. così la figurerai su l muro che ha similitudine con la parete, e arai tutte l'altezze e sporti della figura e le larghezze, ovvero grossezze che si ritrovano nel muro dritto M. N. farai Ja sua propria forma, perchè nel fuggir del muro la figura diminuisce per se medesima . La figura che va nella volta ti bisogna diminuirla, come se ella fusse dritta, la quale diminuzione ti bisogna fare in su una sala ben piana, e lì sarà la figura, che leverai dalla parete W. R. con le sue vere grossezze, e ridiminuirle in una parete di rilievo, e fia buon modo.
This is a description of how to reduce a figure, in this case from 24 hands high to half that size, or twelve hands high.
First you find the height of the smaller wall by locating the center of the large figure. The line AM describes this. Then using the points as they pass through the arc you can reduce the figure in correct proportions.
The image is from
Henri Godts Librairie
.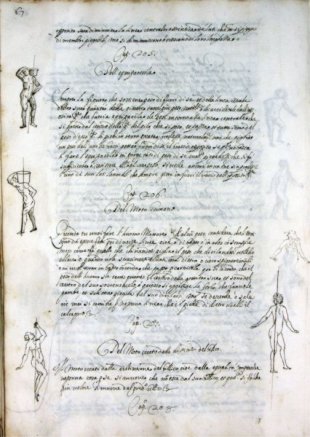 Leonardo. Dagli studi di proporzioni al Trattato della Pittura
(Leonardo. From studies of proportion to the Treatise on Painting)
di Pietro C. Marani e Maria Teresa Fiorio
Google Books Edition
.
Edition at the Elmer Belt Library of Vinciana
, at the Internet Archive.
LEONARDO DA VINCI'S TRATTATO DELLA PITTURA. TREATISE ON PAINTING. ABIBLIOGRAPHY OF THE PRINTED EDITIONS 1651-1956 BASED ON THE COMPLETECOLLECTION IN THE ELMER BELT LIBRARY OF VINCIANA
Trattato della pittura di Lionardo da Vinci (Italian Edition)
Trattato della pittura
Trattato Della Pittura [Preceded by a Life of the Author by C. Amoretti]. (Italian Edition)
Related book at
Google Books
,
Trattato della pittura
[preceded by a life of the author by C. Amoretti]. By Carlo Amoretti
Images from Leonardo's books at
ExLibris Mario Taddei
.
Other images at
The University of Rochester
.
Leonardo da Vinci: The Complete Paintings
Leonardo da Vinci, Master Draftsman (New York Metropolitan Museum of Art Series)