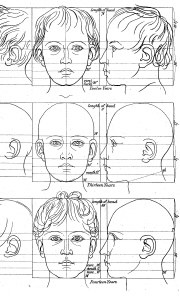 These are the ten life drawing books that readers of this site were most interested in in 2010. It's interesting that half of them are older books which have been republished or brought up to date in new editions and the others take a very classical approach to figure drawing. All are useful for the art student or artists who are designing figures for motion picture computer graphics or for video games.
The Art Student's Guide To The Proportions Of The Human Form
 - My own republication of Johann Gottfried Schadow's most complete treatise on the proportions of the human body.
Boris Röhrl in his book
History and Bibliography of Artistic Anatomy
makes a mention of Dr. Schadow's work:
"One of the first remarkable German publications of the 19th century was initiated by the director of the Dusseldorf academy, Gottfried Schadow, who edited a folio sized atlas with figures from Albinus in 1830. His atlas on proportions, printed four years later, entitled Policlet, was more successful and was re-printed six times. Copies from this work are still used in modern anatomies."
There is more at my post
History of Artistic Anatomy
. Read more about the book at
Figure-Drawings.com