Ebay.
More images at
How to Draw the Male Figure
,
How to Draw the Female Figure
and
How to Draw Drapery
.
From
A BIOGRAPHICAL HISTORY OF THE FINE ARTS
By S. SPOONER
THOMASIN, Simon. This artist is said to have been of the same family as the preceding, born at Troyes in 1638, though Zani places his birth in 1652, and his death in 1732. After learning the rudiments of design at Paris, he went to Rome, and studied in the French Academy in that city. He devoted himself to engraving, and acquired distinction. He was elected a member of the Academy at Paris, and appointed one of the engravers to the king. His plates are executed entirely with the graver, in a neat, clear style, but without much intelligence in the effect of light and shadow. His drawing is generally correct, though somewhat mannered, and his extremities are not marked with that freedom and lightness which distinguish the hand of a great master. His most considerable work is a folio volume of plates, from the statues and other marbles in the palace and gardens of Versailles. He also engraved a number of portraits and other subjects, among which are the following: PORTRAITS. Louis, Duke of Burgundy. 1698. Maria Adelaide of Savoy, Duchess of Burgundy. Paul Beauvillier, Duke of St. Aignou. 1695. Charles XII. of Sweden. Peter Corneille; after leBrun. SUBJECTS AFTER VARIOUS MASTERS. The Miraculous Draught of Pishes; after Raffaelle. The Transfiguration; do. St. Paul taken Up in the third Heaven; after, N. Poussin. Christ praying on the Mount; after le Brun.
Left 'La Melancholie', engraved by Simon Thomasin after Domenico Fetti (Dominique Feti).
Right "Raptus Proserpinae" J.F. Leopold Engraving from Simon Thomassin (ca. 1654- 1733)
Recueil des figures, groupes, thermes, fontaines, vases et autres ornemens tels qu'ils se voyent á present dans le Château et parc de Versailles (French Edition)
Link
to an auction of the book.
Link
to a print for sale. More
prints
for sale.
Wikipedia
images.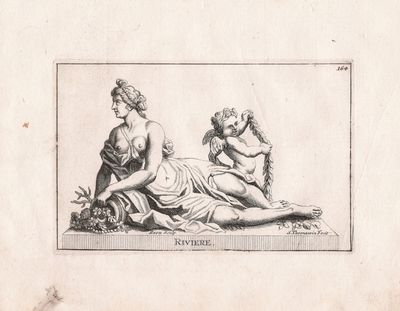 Left Allegorie dei Fiumi
Right Uranie
Recueil des Statues, Groupes, Fontaines, Termes, Vases, et autres magnifiques ornemens du chateau & parc de Versailles. Le tout grave d'apres les originaux. Avec les explications en Francois, Latin, Italien & Hollandois