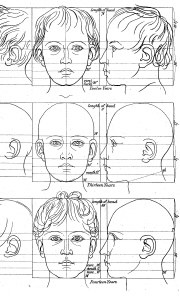 These are the ten life drawing books that readers of this site were most interested in in 2010. It's interesting that half of them are older books which have been republished or brought up to date in new editions and the others take a very classical approach to figure drawing. All are useful for the art student or artists who are designing figures for motion picture computer graphics or for video games.
The Art Student's Guide To The Proportions Of The Human Form
- My own republication of Johann Gottfried Schadow's most complete treatise on the proportions of the human body.
Boris Röhrl in his book
History and Bibliography of Artistic Anatomy
makes a mention of Dr. Schadow's work:
"One of the first remarkable German publications of the 19th century was initiated by the director of the Dusseldorf academy, Gottfried Schadow, who edited a folio sized atlas with figures from Albinus in 1830. His atlas on proportions, printed four years later, entitled Policlet, was more successful and was re-printed six times. Copies from this work are still used in modern anatomies."
There is more at my post
History of Artistic Anatomy
. Read more about the book at
Figure-Drawings.com
The Human Figure
- John H. Vanderpoehl's classic book of beautiful charcoal drawings. Many students have completed their education in the figure by copying all the drawings in this book. Here's an example:
Julius Guzy
Paintings and Drawings
. The drawing of eyes is from Vanderpoehl's book. Here's a photo of a
drawing class showing Vanderpoehl teaching
in the People's Art Academy in St. Louis, Missouri in 1910-11 from the University City Public Library in Saint Louis. Here's another
picture of Vanderpoehl
. Another
edition
.
The Artist's Complete Guide to Figure Drawing: A Contemporary Perspective on the Classical Tradition
by Anthony Ryder who studied at the Art Students League of New York, the New York Academy of Art, and the École Albert Defois in France.
Art Models 2: Life Nude Photos for the Visual Arts (Book and CD-ROM) (No. 2)
- The second in the Art Models series of books by Maureen Johnson and Douglas Johnson.
Art Models: Life Nudes for Drawing Painting and Sculpting
- The first in the Art Models series of books by Maureen Johnson and Douglas Johnson.
The Art Student's Guide to the Bones and Muscles of the Human Body: and Lessons on Foreshortening
- Another republished edition of a book by Johann Gottfried Shadow. This was his first instruction book for art students and sculptors. In it he simplified the figures of Albinus and labeled them to aid in the study of anatomy. You can read more about it at
Figure-Drawings.com
and at
this post
.
Classic Human Anatomy: The Artist's Guide to Form, Function, and Movement
- by Valerie L. Winslow. Valerie L. Winslow has been painting and drawing the human figure for more than three decades. She has taught at the Art Center College of Design in Pasadena and at the California Institute of Arts. Currently, she teaches at the Academy of Art University in San Francisco. She lives in Santa Rosa, CA.
How to Draw the Human Figure (Famous Artists School: Step-By-Step Method)
- This is a reissue of the famous drawing course originated by Famous Artists School which has been offering mail order courses since 1948. The idead for the school came about during a conversation between Albert Dorne and Norman Rockwell. Dorne recruited other artists and they all profited enormously. Subjects covered in the book include The Human Form, Drawing Materials and Techniques, Models-Where to Find Them, Gesture Drawing, Drawing Step-by-Step, The Basic Form Figure, Artistic Anatomy, Lighting the Figure, The Figure in Motion.
Human Proportions for Artists
- by Avard Fairbanks - a comprehensive guide to human proportions with both male and female figures and heads.
Classical Life Drawing Studio: Lessons and Teachings in the Art of Figure Drawing (The Art Students League of New York)
by James Lancel McElhinney, Instructors of the Arts Students League of New York, Foreword by Will Barnet. A gallery of student drawings from the 19th and 20th centuries in more that 200 color reproductions.