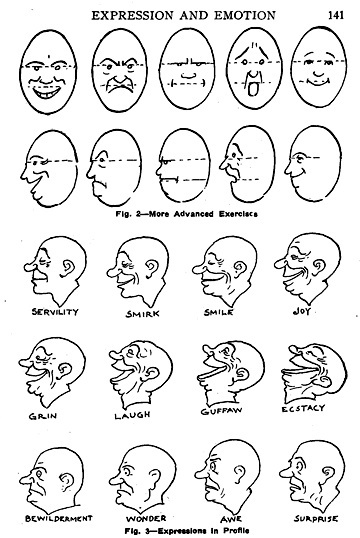 This is an ad from the Lederer School of Drawing advertising a study course devised by Charles Lederer. The ad is from
Popular Mechanics, April 1925.
He wrote the book
Drawing Made Easy
, which is available as an e-book at
Figure-Drawings.com
.
The ads are full of superlatives and praise, and I haven't seen the thirty lesson course (which you can purchase below at Amazon.com) but the book
Drawing Made Easy
is full of useful examples.
Here is another ad from 1921 this one is in Popular Science:
How I Turned Work into Play at $200 a Week
.
The amazing story of a bookkeeper who without any previous experience learned the one great secret of drawing in his spare time and cashed in on it.
"He told me how Charles Lederer, the famous artist and cartoonist had drawn upon his thirty years of experience and constructed a home study course along lines never before attempted. Working on a new idea Mr. Lederer had condensed the whole field of commercial art into thirty fascinating lessons. He had boiled the whole system on training down into one great principle. And so simple was it, so logically arranged that anyone, whether he had had previous experience of not, could not ail to progress easily and rapidly."
This ad is from
Cosmopolitan, July, 1920
, How in One Evening I Learned the Secret of Drawing.
"We want you to prove to your own satisfaction the tremendous value of Mr. Lederer's discover. It will not cost you one penny. We want you to examine the Entire Course at our expense for five days. If you will just till out the coupon below, detach it and mail it to us, we will gladly send you the complete course for your approval. We feel sure that when you see the surprising simplicity of this method you will agree with us that it is the greatest discover)' ever made in this field."
"New Method Makes Sketching Easy As Writing
"Before I had even glanced through all the lessons of the Lederer Drawing Course, I saw that I had what I wanted, and that the "short-cut" secret I had wished for was mine at last. The door of success in commercial illustrating had swung open before me, and I pushed quickly through it.
"Before I had studied the Lederer Course three months I began to sell pen and ink story illustrations to "all fiction" magazines of the type of "The Argosy," "Snappy Stories" and so on. From that I soon worked up so that I could handle the higher-grade art work required by the big weeklies and monthly magazines. Then advertising managers began to want my pictures to illustrate their advertisements of hosiery, candy, automobiles and what not. I specialized in making drawings of beautiful women in bathing suits, ball dresses, and sport clothes, direct from living models, and I soon had so much to do that I could have worked twenty hours a day if I had wanted to."
Reprint of the Art Course:
The Lederer Art Course: A Complete, Simplified System Of Drawing, Design, Cartooning And Color Work
Printed copies of Drawing Made Easy at Amazon.com:
Drawing Made Easy A Book That Can Teach You How to Draw
Drawing Made Easy: A Book That Can Teach You How to Draw
Drawing Made Easy (Art Instruction)
Related Post -
Learn to Draw at Home in Your Spare Time
William F. Reese
, a Western Artist, was exposed to Drawing Made Easy early in his life:
"William F. Reese was born in Pierre, South Dakota on July 10, 1938, the eldest of five children. His family moved to Seattle, Washington when he was two-years old and later to an apple ranch in Central Washington. Growing up in rural Washington he was exposed to horses and cattle, which instilled a lifelong appreciation and love of animals that is evident in much of his work. Bill started drawing when he was three or four-years old. The Charles Lederer book Drawing Made Easy, given to him by his grandmother, served as his first exposure to art instruction. At thirteen his parents gave him a set of artist's oil paints to further explore his burgeoning interest in art." From the Guide to the William F. Reese Collection at the National Cowboy Museum.
Mel Fillerup, another Western Artist, was another early student:
"Early in life Mel Fillerup came to feel the excitement that is the wonderful world of drawing and painting. The home library during those early years had a set of children's books entitled "My Bookhouse" and "Drawing Made Easy" by Charles Lederer. Mel copied many of these illustrations and went through the exercises in the art instruction book many times. There was no art instruction in the high school in those days, but he was unofficially considered the class artist." From the Meadowlark Gallery.