The Cover.
One of the full page illustrations from
La Vie Parisienne
, which is where the illustrations from this ebook were first published.
This one is titled Effets et Poses, it tells the story of a model reporting for work, the artist at work with the model and the final question, will the artwork be exhibited successfully at the Salon, or consigned to a street fair.
Pierre Lissac was a prolific French artist and illustrator in the early twentieth century. He worked for magazines, and illustrated books such as the
Songs of Bilitis, L' Aiglon, Cyrano de Bergerac, Contes du Lundi, Le Cid est Revenu, L' Age Hereux, Le Monstre, Cantegril
and many others. The images in this ebook are all from
La Vie Parisienne
. The magazine was originally published for the social and artistic life of Paris. It became very popular and feature risque illustrations of scantily clad ladies.

Pierre Lissac brought a unusually observant and humorous illustration style to his work in the magazine, many of his works were densely populated views of street scenes with so much going on you could look for hours to see all the activity.

The chapters are scans of individual drawings extracted from full page combinations of drawings published in the magazine. The drawings are enlarged so the reader can appreciate the detail and elegant line of Pierre Lissac. All of the drawings incorporate the humor he was famous for. The last section is a humorous look at the Salon des Artistes. The Petite Model is posing for various masters in their typical poses. I have added an appendix with copies of typical works of the artists that Pierre Lissac is spoofing and comparing the paintings to Lissac's drawings.
Here is an example, Joseph Bail loved to produce genre paintings of servants polishing brass cooking utensils. This gave him the opportunity to show off his skill with figures and his skill with surfaces by painting the shining pots and kettles. Pierre Lissac spoofs his work with a model furiously polishing a pot while sitting on a model stand.
A page from the book
. In the book the image is enlarged from the full page illustration shown above to better show the observational style and line that Pierre Lissac used.
Table of Contents
Le Coulisses du Salon - The Scenes of the Salon
Effets et Poses - Effects and Poses
Sur une Plage - On a Beach
A Jouvence les Bains - A Youth at the Baths
Paris au Mois d'Aout - Paris in August
Le Grand Maitre Juges par une Petit Modele - The Grand Master Judges a Petit Model
Links:
Cyrano De Bergerac
, with illustrations by Pierre Lissac
Per diverti lo gen. Chansous lemouzinas ... 23 dessins inédits de Pierre Lissac
Le Nouveau Lazare. Roman. Compositions de Pierre Lissac (La Petite illustration. Roman. no. 345-7.)
Life Drawing - Croquis de Pierre Lissac
Now available as a printed book at
Lulu.com
.
Drawings of Paris life by Pierre Lissac as published in the pages of La Vie Parisienne in the early part of the twentieth century. Pierre Lissac was an astute observer of boulevard life and brought wit and humor to his drawings of these ladies, artists and artist models.
Art Models 4: Life Nude Photos for the Visual Arts (Art Models series)
Art Models 3: Life Nude Photos for the Visual Arts (Art Models series) (No. 3)
Art Models 2: Life Nude Photos for the Visual Arts (Book & CD-ROM) (No. 2)
Art Models: Life Nudes for Drawing Painting and Sculpting
The Invention of the Model: Artists and Models in Paris, 1830-1870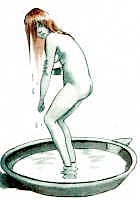 Pierre Lissac's humorous drawing of a typical Paul Emile Chabas model.
La Baigneuse by Paul Emile Chabas.
Paul Emile Chabas, Ninfa Loira.
Paul Chabas,
Baigneuse au fond bleu Aquarelle et gouache signée en bas à gauche .
Two Bathers by Paul Chabas